HOTEL LUMIEREKASAI
Our rooms are flooded with natural sunlight.
"Lumiere" means "light" in French.
Lumiere offers all guests a fulfilling stay.
2021.8.1
RENEWAL OPEN
Guest room full renewal
HOTEL LUMIERE KASAI
NO SMOKINGSmoking room is in the hotel
NO SMOKING
Smoking room is in the hotel
to KASAI
1

About 14 minutes
by car from Tokyo Disney Resort
・ Bus (Shuttle Seven)

2

About 17 minutes
by train from Otemachi (Tokyo)
・ Tokyo Metro Tozai Line

3

About 20-40 minutes
by bus from Haneda Airport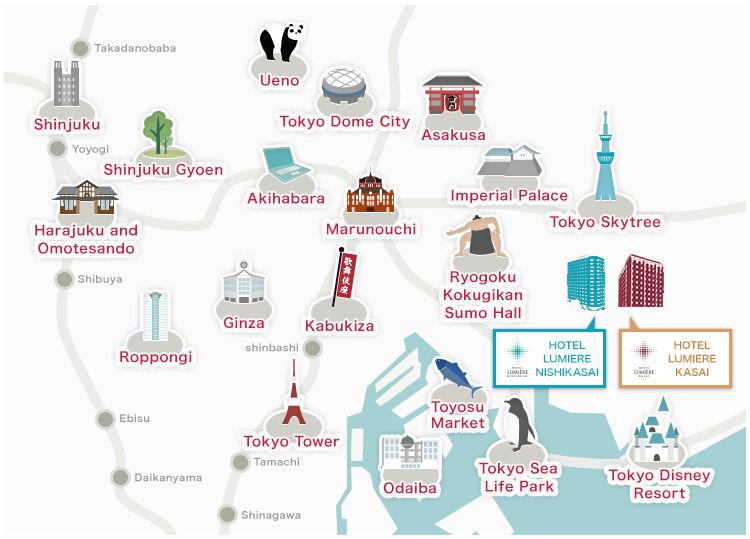 ROOM FACILITIES
&
SERVICES
Complimentary breakfast

We provide a free breakfast (bread, coffee, etc) in the Lumiere Lounge.
Breakfast: 6:30-10:00

Complimentary Wi-Fi connections in each room

Complimentary Wi-Fi connection services are available in every room and the lobby on the 1st floor.
LAN cable are also provided in each room.

Baggage service

Please ask the front desk if you would like your luggage kept in storage.
Other services
(optional)
Laundry service

Massage service

Parcel dispatch
Coin-operated laundries (5th and 8th floors)

Washer: 300 yen per wash.

Dryer: 200 yen per 60 min.
(Laundry detergent is sold for 50 yen per wash
from the vending machine on the 1st floor.)

Smoking room (3F)
Other facilities
Drink vending machines are on the 3rd, 6th and 10th floors, and alcohol vending machines are on the 7th floor.

Ice dispenser are on the 2nd floor.

The entrance is locked during the night for ensure security

Non-smoking floors

A wheelchair accessible toilet is located on the 1st floor